Orange and white ribbons were tied to an oak sapling planted in memory of murdered schoolboy Jaden Moodie, 14, at a ceremony on Friday, as balloons in the same colours were released "to lift his spirit".
Until last summer, Jaden lived in Arnold in Nottingham where the tree planting ceremony to mark his death took place on a sleet sodden slope in Arnot Hill Park.
Dozens of Jaden's friends from his old school, Redhill Academy, wore T-shirts bearing Jaden's photo with the words "gone but never forgotten''. They huddled together against the biting wind and spoke little, as Jaden's family and other members of the community wept and tried to console each other.
The teenager was deliberately rammed by a car while riding a moped in Leyton on 8 January, not far from his grandmother's home in Waltham Forest, east London. He was then stabbed repeatedly by three men travelling in the car, a black Mercedes class B, in a frenzied 30-second attack.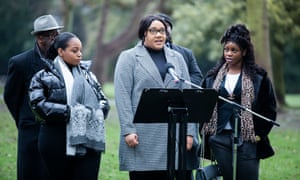 Jaden's death was particularly horrifying because of the brutal nature of the attack and the fact that he was so young when he died. He is the youngest person to die in a street attack in the capital in more than a year. Ayoub Majdouline, 18, has been charged with his murder.
His family paid tribute to Jaden whom they describe as "our beautiful boy". They have vowed to try to stop the cycle of violence leading to the deaths of so many teenagers and young men and have launched a foundation in Jaden's name to try to provide more support for young people.
"We do not want any other family to experience the pain and grief of losing a child, that is why we are saying enough is enough," said Jaden's 18-year-old sister Leah Moodie.